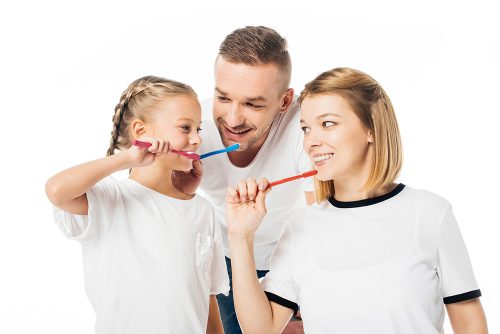 Being able to have one dentist who can treat your entire family is a gift that makes the dental experience even more enjoyable. At Dental Group of Evergreen Park, our team specializes in a wide range of general and family dental services so that our team can provide dental treatments for your entire family.
When it comes to children's dentistry, pediatric dentistry specialists should not only have expertise in the oral health concerns most common for kids, but should also have a passion for working with children and helping to educate them about oral health and the importance of seeing the dentist.
We pride ourselves in having a team of dentists, hygienist, and assistants that can perform almost all dental procedures under one roof for all age groups! If you and your family are looking for a new dentist in Evergreen Park, we have you covered.
Our team at Dental Group of Evergreen Park is experienced in serving patients of all ages! So, get in touch with our office today to schedule your family to be seen by our team.
Pediatric Dentistry
Full-circle pediatric dentistry shouldn't just be about exceptional dental care – providing dental education is vital to helping children learn to love taking care of their teeth. Pediatric dentistry is a specialized dental field that requires additional dental training, and our pediatric dentistry team here at Dental Group of Evergreen Park has in-house pediatric staff who are passionate about helping children achieve their best and healthiest smiles.
We provide complete dental care to ensure that children's teeth and gums remain healthy. We can diagnose and treat infections early with continuous, frequent appointments so that your child does not experience any discomfort or lose teeth prematurely. We recognize how vital it is for your child to stay well, and we will do everything we can to ensure that this happens.
Pediatric dental appointments play the vital role of minor dental concerns being addressed early on before developing into anything more serious. By spotting gum disease, tooth decay, and other dental concerns early on, your child is set up for a lifetime of healthy smiles. 
Dental Education
Providing education regarding dental health is also vital to long-term oral health, and is why our team provides pediatric patients with education on dental health regimens, brushing technique, controlling plaque on the teeth, and other oral health concerns that can easily go overlooked early in life. This education helps your child establish strong oral health early on, preparing them for a lifetime of healthy smiles. These visits also help your child learn to love coming to the dentist, helping their smile remain healthy and bright for a lifetime.
Book With Our Team Of Family Dentists
Your family's oral health plays a vital role in their overall health, which is why our team at Dental Group of Evergreen Park specializes in dental treatments meant for patients of all ages, whether you're looking to book pediatric appointments for your child, or a dental implant consultation for yourself or a parent. It's our goal to form long-term relationships with our patients and their families, as well as serve patients in our community of all ages.
Speak with our team at Dental Group of Evergreen Park today to learn more about our full array of family dental services, or if you have any questions regarding pediatric dentistry. We will be able to treat you, your kids, or even parents with the best care around. So, book your appointment with us today!
---
#1 Family Dentist in Evergreen Park, IL – Dentist for Kids Near Me – Emergency & Family Dentistry in Oak Lawn